Faragello food products
Faragalla group was founded in 1973. The group currently is considered to be one of the biggest and most diversified food companies in the Middle East. The industrial operations are located at New Borg El-Arab city. Under this group there are 3 separate food processing companies which are The Egyptian company for freezing and beef processing, The Egyptian food company & The Egyptian Company for Food Development Faragalla consists of 28 factories and all of them are certified for ISO 22000, ISO 9001, ISO 14001 and HACCP in additional to FDA.
Faragalla group produces over one thousand different products in the field of processed meat and chicken, frozen vegetables & fruits, concentrated fruit juices and pulp, packed fruit juices in glass and tetra Pak, confectioneries, bakeries, tomato paste , jams, processed cheese, chicken stock and instant juice powder etc.
Faragalla different factory installations cover over 500000 sqm. Faragalla exports to more than 130 countries all over the world including USA, Western Europe, Middle east and Africa
Juice in Carton, 200 ml
Tropical, Guava-Strawberry, Cocktail, Guava, Mango
Juice in Carton, 1L
Apple, Cocktail, Guava, Mango, Orange, Pineaple, Grape
Juice in glass bottles, 200ml
Apple, Mix, Guava, Mango, Orange, Pineaple
Duava-Strawberry juice 200ml
​
Juice in Carton, 1L
Apple, Cocktail, Guava, Mango, Orange, Pineaple, Grape
​
Tomato Paste can (28 %), 3 Kgs
Tomato Paste can (28 %), 2.200 Kgs
Tomato Paste Jar (22 - 24 %), 375 g
Tomato Paste Jar (28 - 30 %), 375 g
Tomato Sachets (22 - 24%), 50 g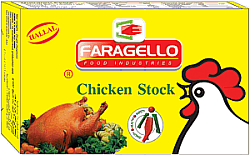 Chicken Soup 10 Cube, 120 g
Jams In Glass Jars, 340 g
Apricot Jam, Fig Jam, Cocktail Jam, Strawberry Jam, Orange Jam, Pineapple Jam, Blackberry Jam
​
Jams In Glass Jars With Pieces, 350 g
Apricot Jam, Fig Jam, Strawberry Jam
Please contact us if you are interested to represent this product in your store
Find it in SELECTED kiosks and supermarkets all over Cyprus